Surry Seafood is the perfect place to enjoy fine food and great cocktails with excellent service, in a relaxed setting along the creek.
Wednesday Evenings 6-9 pm
The Start of Surry Seafood
Randy and Brian Pack of Pack Brothers Hospitality had been looking for a place to expand their operations since 2012 after their most recent expansion at their family restaurant, hotel and marina, Smithfield Station. They looked in many places from Charleston, SC to Jamestown, VA to Manteo, NC. All of the places viewed had a fault or two that kept the brothers from diving in.
In the winter of 2018, Surry County, never before on the radar, approached the brothers about taking over The Surry Seafood Co. and they were all ears. Here was a property close enough to their home that offers hotel rooms, a marina, and a great seafood restaurant! On May 1, 2018 Pack Brothers Hospitality took over operations and after a bit of revamping opened its doors to the residents and visitors of Surry County.
Local Accolades For The Surry Seafood Co.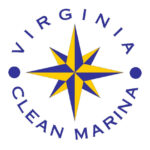 Beautiful marina with floating docks consisting of numerous slips as well as easy outer pier docking. Water and electrical hook up available. As a local who leaves my boat docked here several months of the year, I can't say enough about the owners and how easy they have been to deal with.
Awesome meal!!! I can't say enough good things about the restaurant. The service was attentive, the food was out of this world, and the views are breath taking. I can't wait to return!!
Best oysters on the East Coast! Headed to the northeast and specifically spent the night… to eat here once again. We had raw oysters on the half shell, oysters Rockefeller, and scallops topped with crab meat. Absolutely delicious! Corey was our waitress and she was wonderful.
Beautiful view and good food. The ferry ride over to Surry is nice and relaxing and then you get to eat at a great restaurant. Its a casual setting with amazing views. The wait staff was so friendly. Definitely try the Boom Tiki Shrimp-delicious. Seafood platter was also delicious. Salmon Caesar was great also. Key Lime pie for desert was a must to finish off a great meal.
Good food is a global thing, there is always something new and amazing to learn about it. You will enjoy delicious meals, awesome desserts and a great coffee here.
Starters
Soups & Salads
Seafood Entrées
Turf Entrées
Sandwiches & Burgers
Drinks
Starters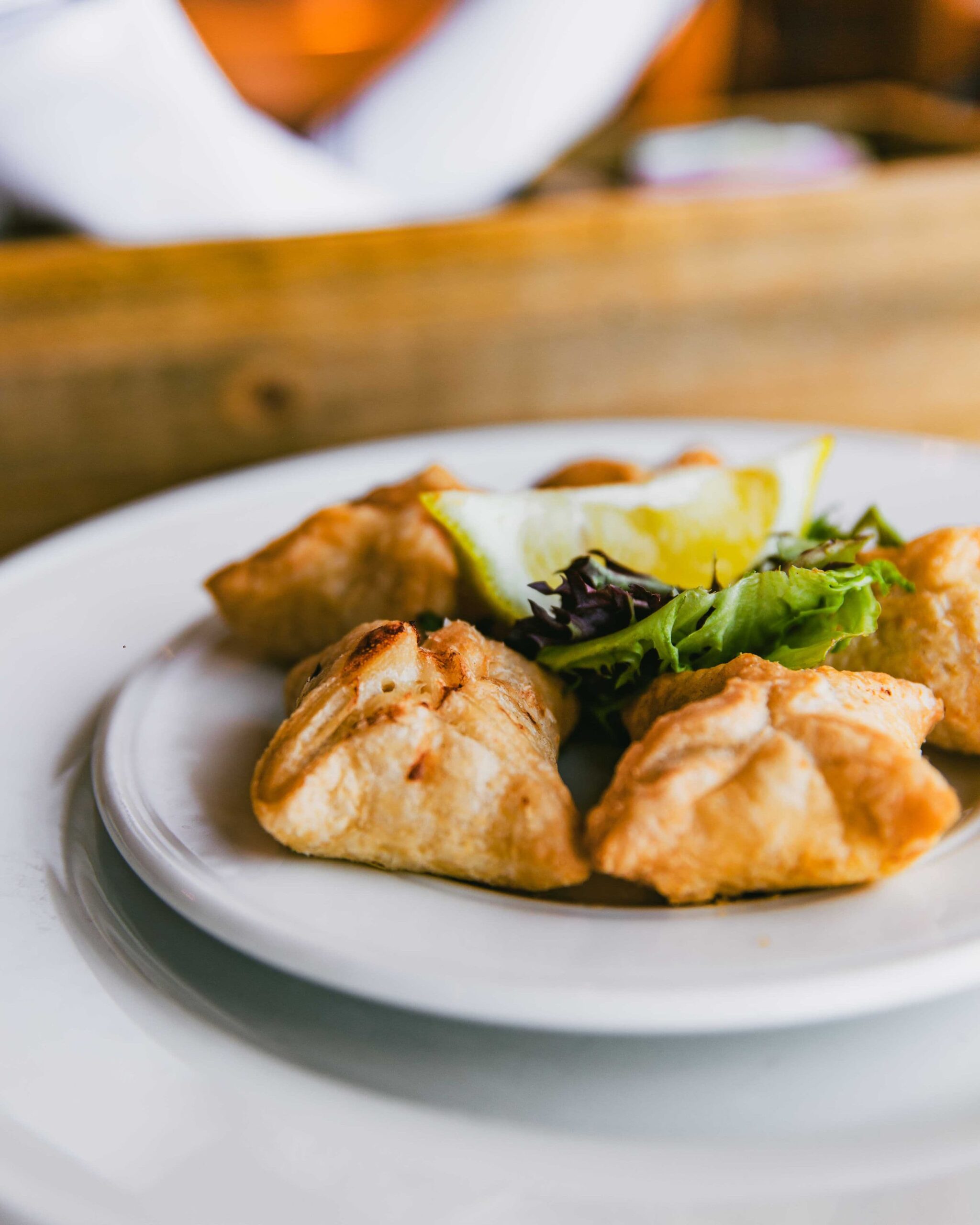 Lightly fried cornmeal served with butter
Lightly breaded and fried shrimp tossed in our sweet and spicy sauce
A combination of lump crab meat, cream cheese and heavy cream laced with red peppers, fresh chopped spinach, sherry and topped with parmesan cheese. Served with pita chips.

Smoked Chilled Salmon Dip

$12.95

House-made salmon dip, cold smoked and served with pita rounds and fresh cucumber.
Raw or Steamed Virginia Oysters*

Served on the half shell, these local delicacies are served either raw or steamed – your choice – with a traditional cocktail sauce and lemon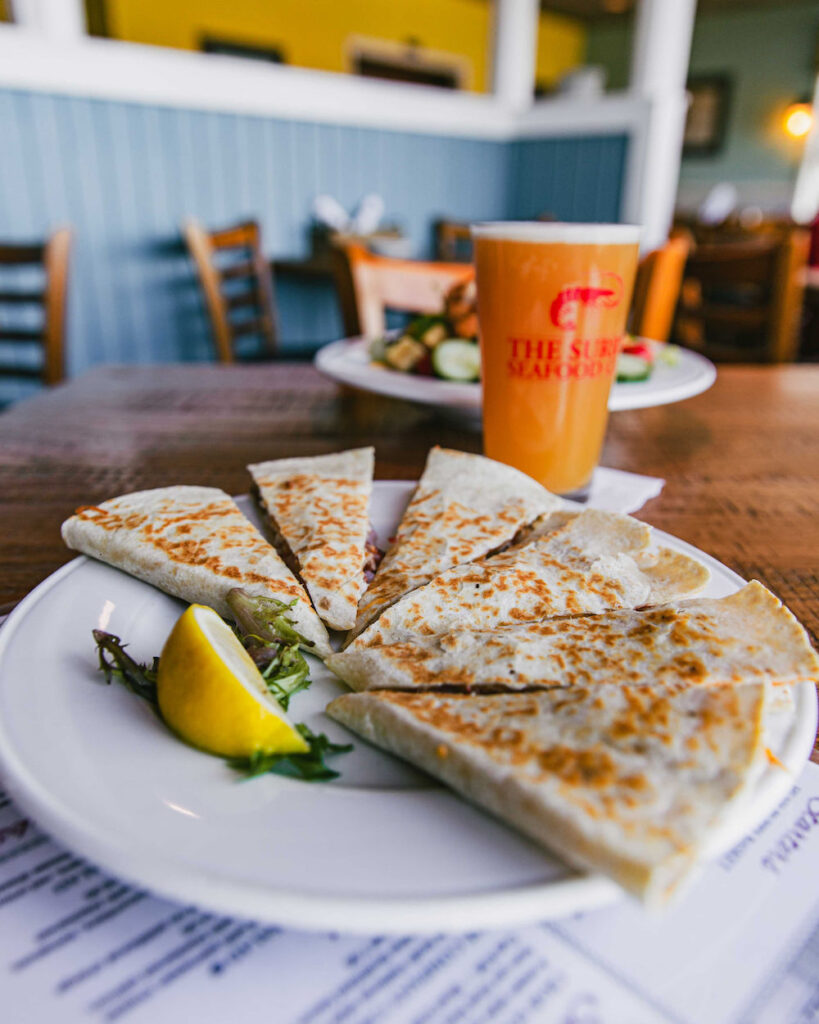 Crab and Shrimp Quesadilla

$16.95

A flour tortilla stuffed with crab meat and shrimp, bacon, fresh mushrooms, Jack and cheddar cheeses Served with sour cream and salsa
Grilled fresh North Carolina yellowfin tuna served with a Thai sweet chili sauce
Blue Crab stuffed in a puff pastry, lightly fried and served with a Thai chili sauce
5 per order
Fresh James River oysters baked with bacon, spinach, cream, Pernod and topped with parmesan cheese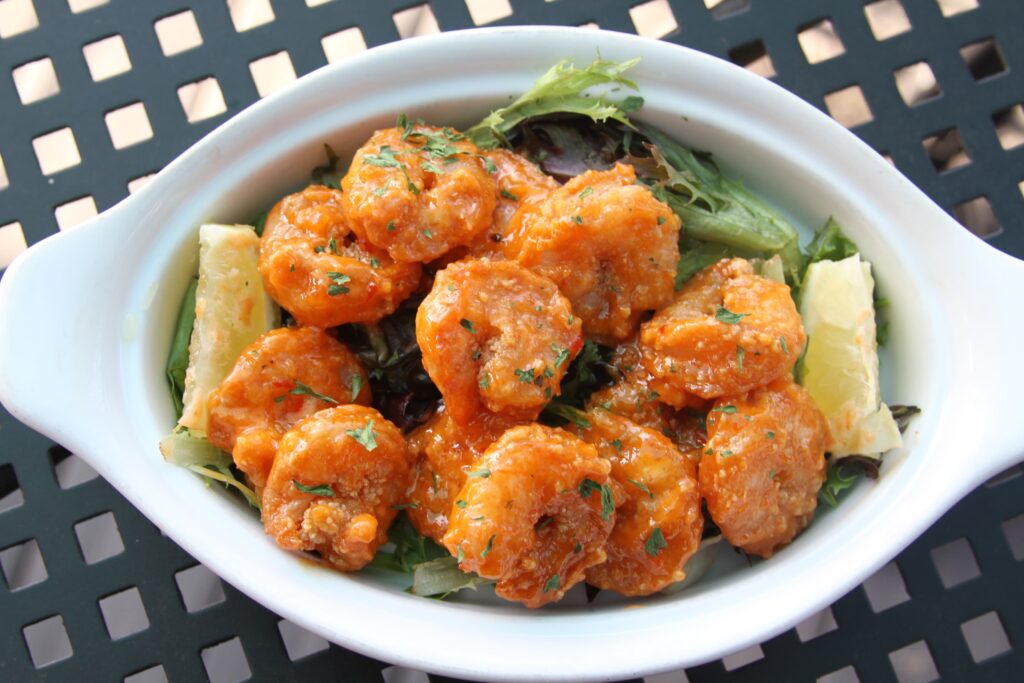 Scallops Wrapped In Bacon*

$15.95

Five scallops wrapped in Genuine Smithfield bacon
Locally sourced shrimp fresh out of the steamer and served with melted butter and Old Bay
Eight naked fried wings tossed in buffalo sauce with a side of our house made ranch dressing
Seven riblets grilled and marinated in our own spicy barbecue sauce
Soups & Salads
Seafood Entrées
Turf Entrées
Sandwiches & Burgers
Drinks
*Items are gluten free or can be prepared gluten free